A while back I did a post on this up and coming product,
Tomatina
(if you missed it,
click here
). Heres a quick recap on what Tomatina is….
* Tomatina is 100% natural with no added sweeteners, preservatives, colors or flavors!!!
*Packed full of vitamins, fiber, antioxidants and minerals
*Perfect as a healthy vegetarian meal
*Energizing after a workout
*Flushes away toxins and replenishes you with vital nutrients
*Made up of tomatoes, red bell peppers, celery, carrots, cucumbers, beets and ginger
At the time of that post this product was still in the works of getting funding to get it going. Well I am super happy to say that John Goldfuss, owner & founder of Tomatina, has made great strides! It is now in full production and available in numerous stores in NYC:
Westside Market (all locations)
Garden of Eden (all locations)
Elm Health
Zeytuna
 & assorted Health/Specialty Stores & Delis
*******
So a couple months back I was surprised with a thank you letter (for writing the original blog post) and a bottle of the finished product of Tomatina!!! As soon as I got this bottle I knew exactly what I wanted to make! I'm a big fan of shrimp cocktail but it can be a bit boring sometimes! I've jazzed it up a bit by roasting the shrimp (a million times easier and yummier then boiling them!) and serving them with a healthier cocktail sauce (NO ketchup here!). Really delicious meal and I wanted to share it with you!
*This meal right here fits into that clean eating thing I talked about in my last post! Missed it? Check it out
here
*
Roasted Shrimp & Tomatina Cocktail Sauce
1 1/2 lbs extra jumbo shrimp, peeled & deveined tails on
1 cup tomatina
1 Tbsp prepared horseradish
garlic powder
salt & pepper
olive oil
lemonPreheat oven to 450 degrees.
I rinse the shrimp off and pat them dry with paper towels. Toss with a little olive oil, garlic powder, salt and pepper.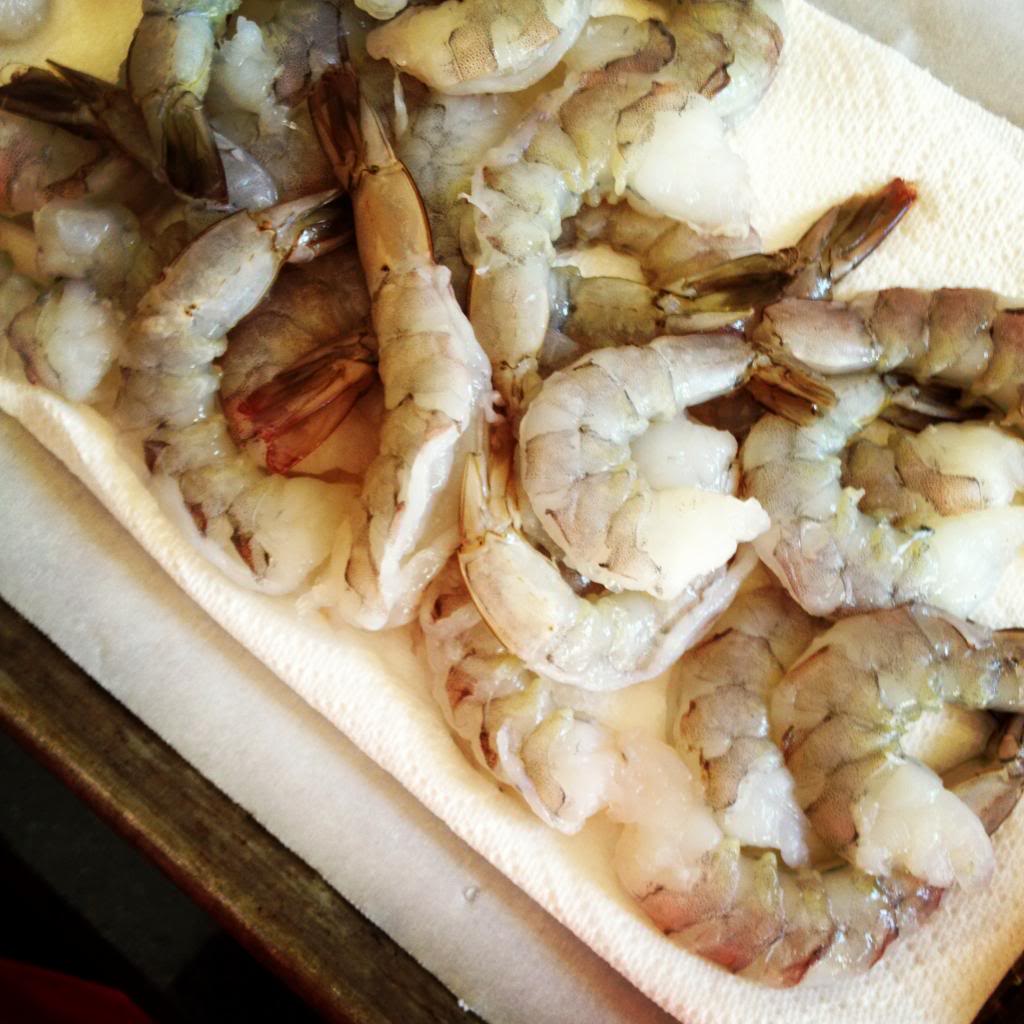 Place the shrimp on a lined baking sheet in a single layer. Roast for 5-6 minutes until cooked through and pink in color.
For the Tomatina Cocktail Sauce mix together the tomatina and horseradish. You can adjust the amount of horseradish depending on how much kick you prefer. I find that its better to make the day before so the flavors have plenty of time to meld.
Right before serving I squeeze a little fresh lemon juice on the shrimp. They can be served hot, room temp or cold.
Served mine with a baked potato & some simply grilled asparagus, season with a little salt and pepper.
I encourage you to take a look at Tomatinas website & follow their Facebook page and Twitter! If you live or are visiting NYC be sure to go pick up a bottle and give it a try!
HAPPY EATS!!!!!