My mom was hosting a family & friends bingo party last weekend and had asked me if I could a few things to pick on. I love the idea of having a party with a whole lot of fun picky food as opposed to an elaborate menu. I kept it really simple seeing as there was lots of running around to be done that week. The great thing is there really aren't recipes just methods so you can customize any of these easily to your tastes! I decided to go with 3 Easy Party Appetizers perfect for any party or football Sunday! Chicken Sausage, Peppers & Onions Skewers, Broccoli & Cheddar Bread and Pepperoni Bread. The skewers are beautiful with the colors of the mixed peppers! There is nothing complicated here but these pickies were a great hit at the party.
Chicken Sausage, Peppers & Onions Skewers
chicken sausage ring
mixed bell peppers, seeds removed
onions
wooden skewers
Oven at 375 degrees.
Cut the uncooked sausage into 1- 1/2 inch pieces. Cut the peppers and onions into large chunks.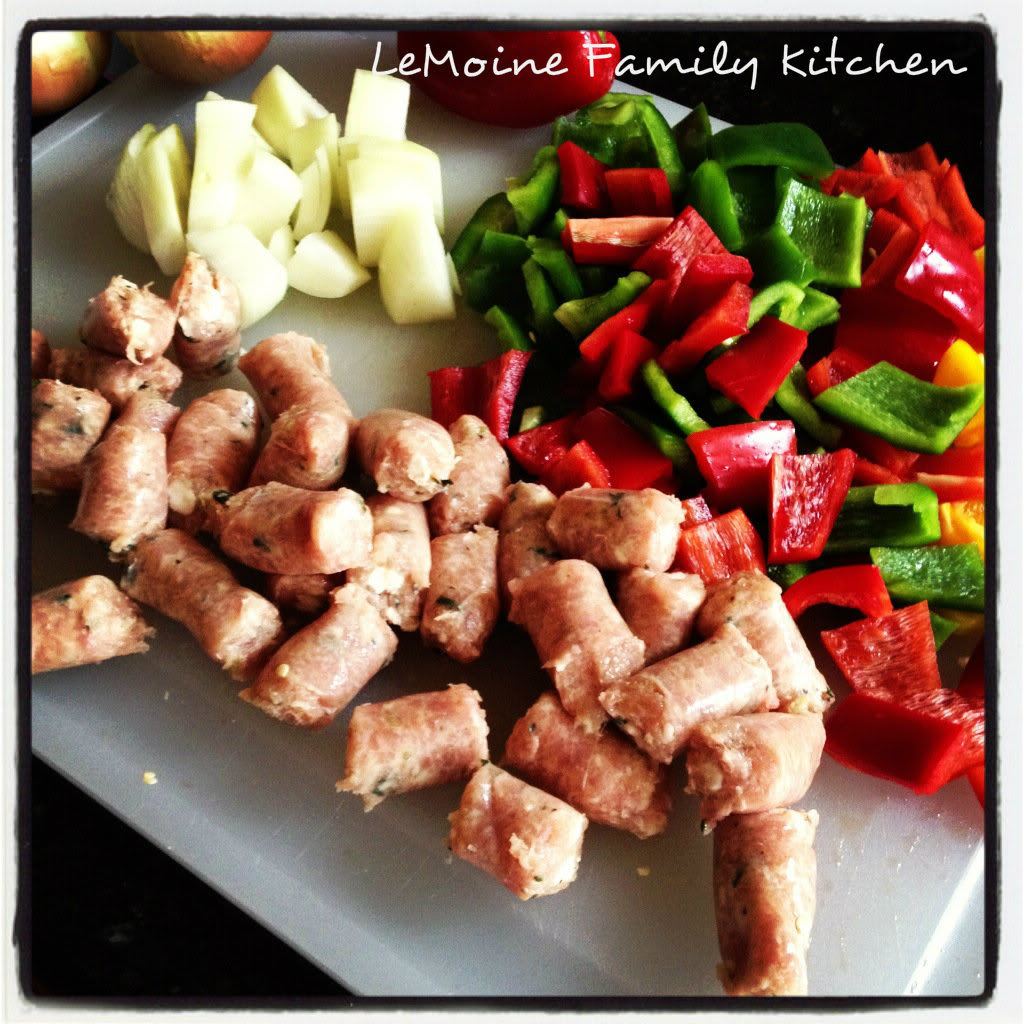 Arrange in whatever order you'd like on the skewers. Place the sausage skewers onto a parchment lined baking sheet, drizzle with olive oil and bake for approx 20 minutes or until sausage is cooked through and slightly browned.
Broccoli Cheddar Bread

pizza dough (i used Pillsbury pizza dough)
frozen broccoli florets, defrosted and drained of any extra liquid
shredded cheddar
garlic powder, salt & pepper
Oven at 450 degrees.
On a floured surface (pizza peel if using a pizza stone) or in a parchment lined baking sheet roll out the pizza dough. Spread some cheese down the center, followed by broccoli florets sprinkled with garlic powder, salt and pepper.
Fold one of the longest sides over the filling. Fold the two shorter sides inward then the last long side over to seal the bread. Flip it over so the seam is down on the baking sheet.
Bake for approx 10 minutes or until golden brown. (the bread will cook quicker on a preheated pizza stone then on a baking sheet.
Pepperoni Bread 

pizza dough (i used Pillsbury pizza dough)
sliced pepperoni
shredded mozzarella
The process is the same as above except you are layering the mozzarella, pepperoni then more mozzarella.
HAPPY EATS!!!