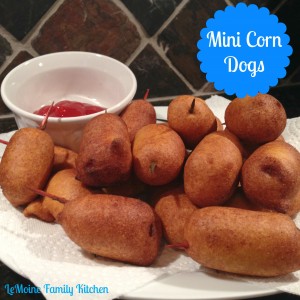 There are those nostalgic foods that you just can't say no to even now as an adult. For me, a lot of those memories bring me to summers on the boardwalk. Zeppoles, huge waffle cones overflowing with ice cream, french fries and Corn Dogs!!! Yup, nothing good for ya there but hey its fun to relive your childhood through food and well anything on a stick is fun in my book!!
A few weeks ago, while stuck in the house because of the snow of course, I decided to take a trip down memory lane and introduce the corn dog to the boys. I made mini versions, cutting Applegate Organic Hot Dogs into thirds and used toothpicks for the stick. The batter is really simple to make and you get to control whats in there so thats always a bonus in my book!
The batter in simply cornmeal, flour, baking powder, salt, sugar, egg and milk. It coats the hot dogs great and cooks up quickly. You'd be surprised, but if these are fried up correctly, they really don't taste greasy at all! How? Its actually not hard to get the hang of. While you are heating up the oil you can test the oil by adding a drop of the batter into the oil. If it sinks and stays at the bottom the oil is not hot enough. If you drop a bit in and it floats up and little bubbles form around the batter you are good to go! If the batter browns up too fast then simply lower the heat a drop.
Now before we move onto the recipe, are you wondering about the title of the post? Ok so incase you missed it, My Caprese Burger was featured on THE RACHAEL RAY SHOW yesterday, AH!!!!! It was the last minute of the show and was an INCREDIBLE moment for me!!! Its so crazy to hear your name and see your food pic on national tv! "Rachael and GE invited you to re-imagine your food by posting pics of your inventive recipes on our Facebook wall, using the hashtag #GEats! See our team's favorite, above!" …. so if you'f like to check out the video clip, click HERE. 
[amd-zlrecipe-recipe:36]
HAPPY EATS!!