Whenever I host a dinner I like to keep the menu as simple as possible, so most of the dishes I plan are of few ingredients but ingredients that pack a lot of flavor. These Green Beans with Shallots & Crispy Pancetta is super easy to make and it really is wonderfully flavored! I shared this recipe last year before Thanksgiving but its so worth sharing again!
 The sweetness of the shallots, the crispy pancetta and the tender green beans make this dish a perfect addition to your holiday meal, really it makes a great side to lots of meals! Oh, and one of the secrets to this dish is the slow cooked garlic oil I used in the
Garlic & Chive Mashed Potatoes
!Another great variation on this is to replace dried cranberries in place of the shallots. The pancetta adds a salty crisp bite, the cranberries instead will add a chewy sweetness. Both ways are delicious!
Green Beans with Shallots and Crispy Pancetta
serves 8-10
4 1/2 lbs green beans, ends trimmed
4 oz pancetta
2 large shallots, sliced
6 Tbsp garlic oil, divided
Garlic Oil
1 cup olive oil
16-20 garlic cloves peeled
In a small sauce pan, over the simmer burner on as low as it goes, add the oil and garlic cloves. Allow to cook for 40-45 minutes. The garlic will have softened and browned lightly and will be sweet almost as if roasted in the oven. My opinion, this is much easier for almost the same result.
Now for these fabulous green beans…
Cook the beans until just tender in a pot of boiling water. Set aside.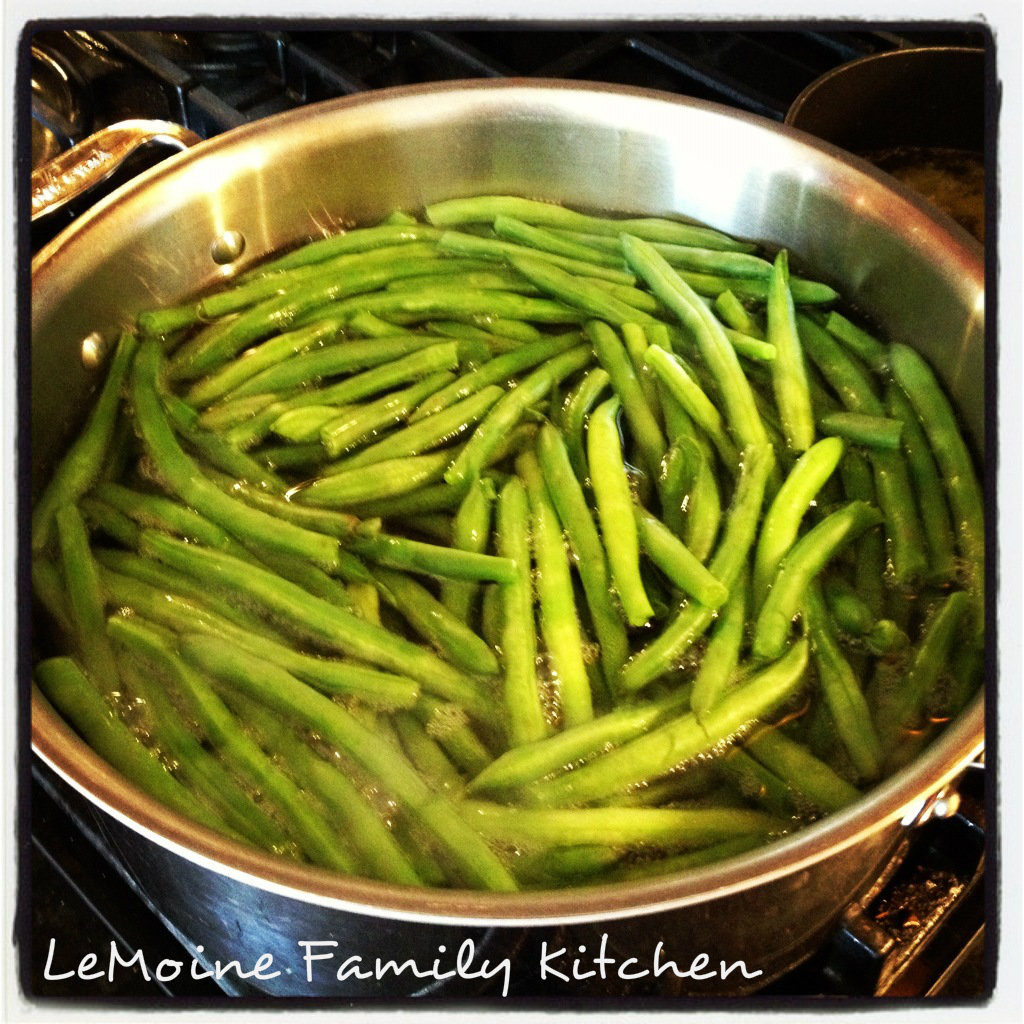 Stack the pancetta slices, roll them up and slice.
In a saute pan, over medium heat, add 3 Tbsp garlic oil and the sliced pancetta. Pancetta doesn't have much fat so the oil helps it get going. Cook until crispy, using a wooden spoon to seperate the slices. Once crisp, remove and set aside leaving the oil in the pan.
To the same pan add in the sliced shallots and sauté until softened and golden.
Toss together the green beans, crispy pancetta, sweet shallots, salt, pepper and another 3 Tbsp of the garlic oil.
If you would like to get this ready the day before simply wait until the day of before adding the crisp pancetta to the green beans.
HAPPY EATS!!!
*this is my original recipe*