Breakfast is definitely the meal I could take or leave. I have never been a huge breakfast person but I know the importance of starting the day out right with a healthy meal. I've gotten such positive feedback from the clean eating meal ideas i've been posting here on the blog as well as on the 
LFK FB page
.
 A bit of advice for when you are trying to eat healthier… plan, plan, plan! Its so much easier to throw a meal together when you have a plan in place. Sit down one night during the week and come up with a few breakfast, lunch and dinner ideas. Make your grocery list and go shopping. No need to make yourself crazy daily thinking of what you are going to make for dinner. You'll have everything in your house and ready to go.
~~~~~~~~~
So, here are some clean eating breakfasts i've had lately…..
For the mornings i'm really not feeling it or just in a bit of a rush… its a lowfat organic yogurt and piece of fruit & maybe a cup of coffee.
~~~
When I'm feeling a little fancier… I made these egg filled bell pepper rings topped with some hot sauce, on the side some berries, half an avocado and a couple small slices of fresh mozzarella. For the eggs I simply lightly beat 4 eggs in a bowl, seasoned lightly with salt, pepper and garlic powder (bc I love garlic in just about everything). Cook the pepper ring a few minutes on one side in a pan, flip over and slowly pour in the egg. It may pour out the bottom a little so pour just a bit in the ring, let it set a bit then fill it with the egg the rest of the way. Cover with a lid, once cooked most of the way through, flip and cook for 30 more seconds on the other side.
~~~
If you are in the mood for sweet instead of savory… I like doing some plain organic oatmeal cooked with water. Add a couple drizzles of organic honey & some cinnamon. With that, a big glass of strawberry & banana blended with a little bit of fat free milk.
~~~
Another egg dish I like doing is a quick veggie scramble. For myself I use 1 whole egg and 1 egg white. For this one I packed it with lots of colorful bell peppers and red onion. I also sprinkled on about a Tbsp of part skim shredded mozzarella on the eggs. On the side, my favorite, half an avocado! Yum!
~~~
Then when we get extra creative, the boys and I create Jacks Cafe! The boys helped me make a breakfast menu and my mom came over for breakfast. I cooked, Jack served. We ended up making 10 grain pancakes with fresh fruit. The brand is Red Mill that makes the multi grain pancake and waffle mix I used.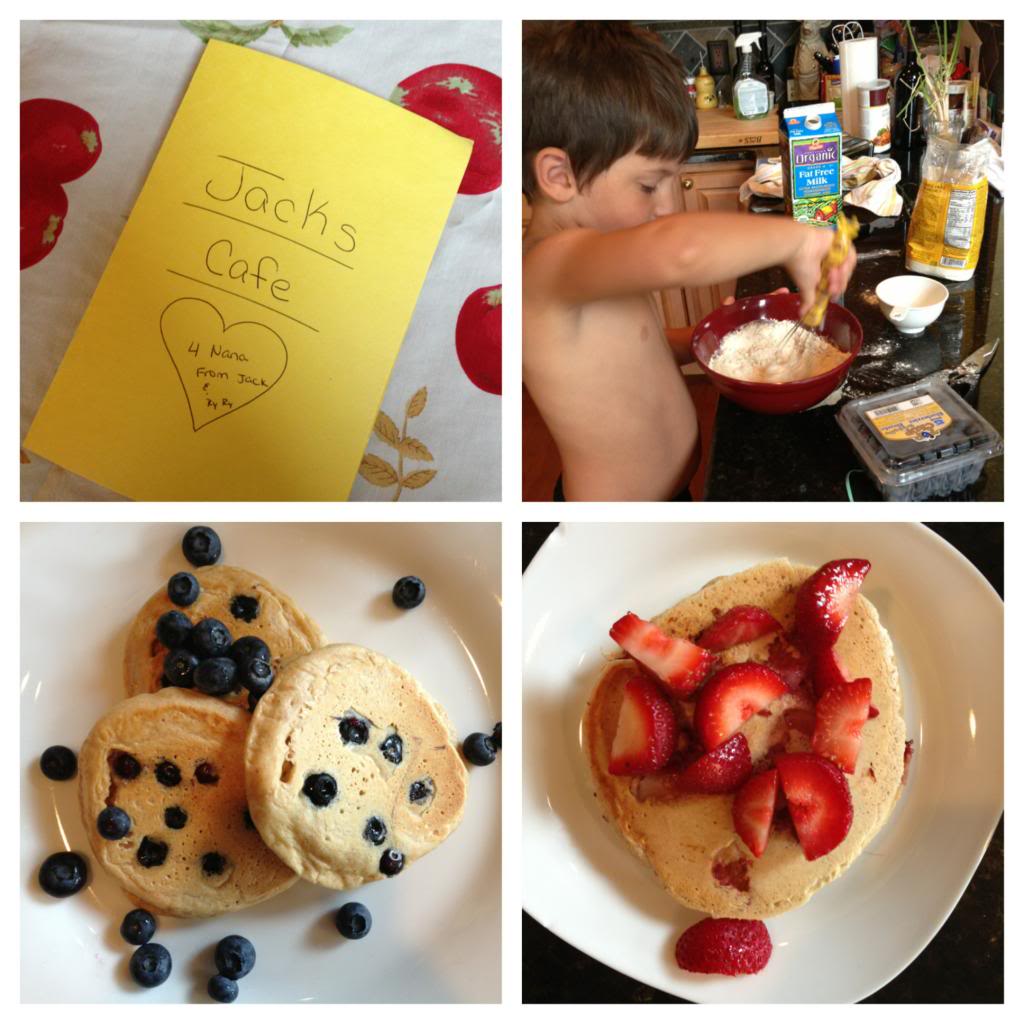 Hope this inspires you to get a little creative with your breakfasts!
HAPPY EATS!!!!