A typical topped baked potato at a chain restaurant is full of greasy bacon, tons of cheese, a giant dollop of sour cream… sure it tastes pretty darn good but we can definitely do better! One of my favorite cool weather foods is a big pot of chili! Yes I know, its summer but this is a great way to bring in chili in a different way! Don't let the picture fool you, this is actually a very lightened up recipe!
This is a small batch of chicken chili that is a bit thicker then my traditional chili. It simmers for just an hour then is poured over top a baked potato. To finish it off, a little cheddar cheese and a scallion greek yogurt crema. This is a super filling and delicious meal!
Chicken Chili Topped Baked Potato
serves 5-6
5-6 russet potatoes (cooked in a microwave for quickness)
1 lb lean ground chicken
1 red bell pepper, small dice
1 green pepper, small dice
1/2 onion, small dice
2 cups diced canned tomatoes with the liquid
1 cup chicken broth
1 can pinto beans, rinsed & drained
3/4 cup canned corn, drained
2 Tbsp chili powder
2 tsp cumin
2 tsp garlic powder
2 tsp dried oregano
cayenne pepper to taste (optional)
18 oz nonfat plain greek yogurt
a bunch of scallions, sliced
3 garlic cloves, finely chopped
shredded cheddar
olive oil
lime for garnish
salt & pepper
In a large saute pan, over medium high heat, add about a tsp or two of olive oil, the onions and peppers. Cook until softened a bit.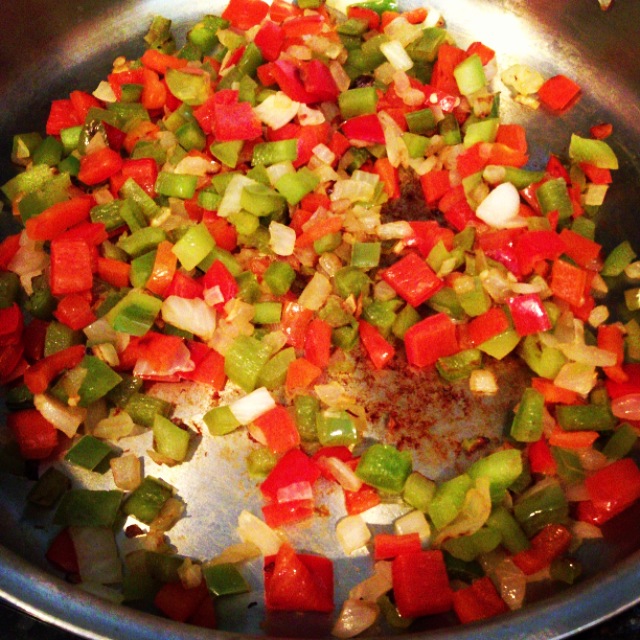 Add in the chili powder, garlic powder, cumin, oregano and cayenne pepper along with the ground chicken. Using a wooden spoon break up the chicken as it cooks and incorporate the seasoning.
Stir in the tomatoes, beans, corn and broth. Cover and simmer for an hour.
((I have no idea what was up with the pics, the sun kept going in and out so everything looks different haha))
Cut the potatoes open and place in a baking dish. Top with the chicken chili and about a Tbsp of cheddar on each potato.  Bake at 375 degrees for about 10 minutes.
For the Scallion Greek yogurt creme… in a bowl mix together the yogurt, the finely chopped garlic, as much scallion as you like and season with a little salt and pepper. Top the chili potatoes with a good dollop, garnish with a wedge of lime and serve.
HAPPY EATS!!!
*this is my original recipe*