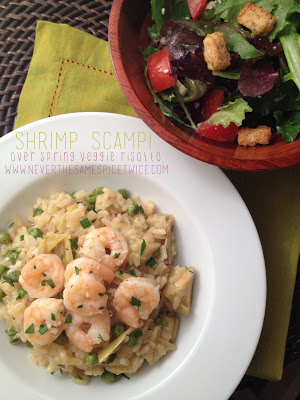 I've got a special guest poster for you today! Stephanie from Never the Same Spice Twice is stopping by to share her Shrimp Scampi over Spring Veggie Risotto! Absolutely beautiful and delicious!!! Be sure to stop by her site and check out all her fabulous food finds! 
I have an extra special recipe for you all today, it is a "two for one" kind of deal!!!  Who doesn't love risotto?  I bet you didn't know it was so easy to make at home!  It takes time since you need to constantly stir it, but I would still consider it simple!  Top it off with some yummy shrimp, and you've got yourself a delicious meal!  I served it with a salad on the side, my favorite!  Here are the recipes…
Spring Veggie Risotto
Ingredients:
2 tbsp. of extra virgin olive oil
3/4 cup minced onion
2-3 cloves of garlic – minced
salt & pepper (to taste)
1 cup of peas
1 15 oz can of artichoke hearts – chopped
1 1/2 cups arborio rice
6-7 cups of Chicken Stock or Broth
1/2 cup of white wine
1 tbsp. of lemon juice
1 tbsp. of chopped parsley
Directions:
1. Bring your stock or broth to a simmer over low heat.
2. In a large pan, heat the olive oil over medium heat -add the onion. Cook until translucent for about five minutes, add the garlic, and cook for another 1-2 minutes.
3.  Turn the heat up to medium high and stir in the rice – keep stirring for about 2-3 minutes.   Add the wine & lemon juice, and stir until it has been absorbed. Turn the heat back down to medium.
4.  Start to add the stock about 1-2 ladlefuls at a time (should just cover the rice).  Cook, stirring often until the rice has absorbed the stock- then add more broth.  Continue this process until the rice is tender.  Add the peas and chopped artichoke hearts when you are down to the last few ladle-fuls.  The entire process should take about 25-30 minutes.  You may or may not need to use all of the stock (I used all 7 cups).  Season with salt and pepper.  Top with shrimp scampi (recipe below), and parsley – serve!
Shrimp Scampi
Ingredients:
1 lb. of shrimp (I used the small uncooked frozen shrimp with the tail off)
3 tbsp. of butter
1 tbsp. of extra virgin olive oil
3-4 cloves of garlic – minced
1/2 cup of white wine
2 tbsp. of lemon juice
pepper (to taste)
Directions:
1.  In a large pan over medium heat – melt butter, and heat olive oil.
2.  Add garlic, cook for 1-2 minutes then add shrimp.
3.  Add white wine, and lemon juice – stirring often until the liquid begins to reduce, and shrimp turns pink.  Add pepper to taste.
I hope you enjoy this one….it was one of our favorites! 🙂