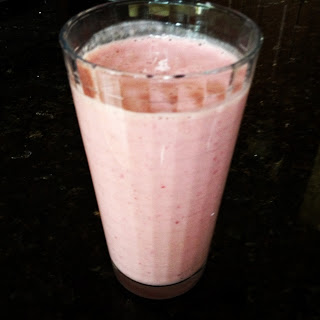 This Power Breakfast Smoothie is the perfect way to start your morning!!!   I am a lover of smoothies, not those icky kinds that use sugary "fruit" syrups… like real fruit, real yogurt…. real yumminess! I have to say I am a sucker for anything strawberry banana and that goes for smoothies too! This one is great because it tastes wonderful and is filling! 
Good For You Breakfast Smoothie
5 strawberries
1 banana
1- 6oz Stonyfield Organic French Vanilla Yogurt
1 or 2 splashes of skim milk
1 Tbsp old fashioned oats
1 Tbsp flax seed
Everything into a blender and go until nice and smooth! Serve over ice if you prefer it extra cold.