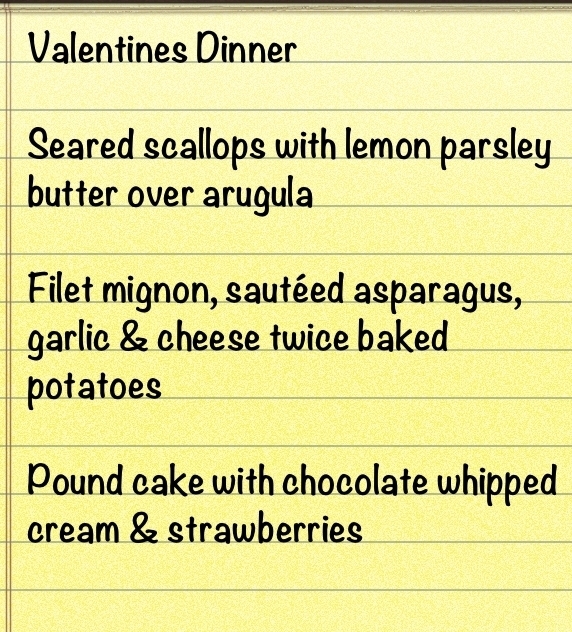 Valentines Day… a day to show the one you love just how much they mean to you. The hubby and I have almost always gone out to dinner for Valentines Day but last year we decided to stay home. Ryan wasn't even 1 yet and lets be honest with two boys under 3, we were plenty tired and hanging out in sweats sounded like a perfect evening.So, maybe this year surprise the person you love with a romantic night in! Get some candles out, a vase full of flowers like carnations with some greenery (they last like 3x as long as expensive roses and make a beautiful arrangement),  a bottle of wine, prepare a delicious meal and enjoy each others company without the hustle  and noise of a busy restaurant.
Steve and I celebrated Friday night, yes a week early, but how else would I get all of you wonderful readers the menu, pictures and recipes in time to surprise your loved ones with an at home Valentines celebration. Our dinner may sound fancy but I promise it isn't very complicated! Heres the menu for our at home Valentines Day…
(Quick side note: I ordered two 8oz filet mignon steaks and darn peapod brought me three smaller pieces so you'll see that in the pics but i'm going to write as it was two 8oz pieces)
I'm going to start with the first course and we'll make our way to my slightly cheat dessert! I'll give you hints on making the meal prep go smoothly. If you plan on giving these recipes a go please be sure to read through them in their entirety before starting anything. It will help everything go more smoothly and easily when it comes time to get to cooking. Oh and don't stress, take one course at a time… make the first course, enjoy it then go ahead and cook the steak and asparagus while that potato is baking.
~~~
First Course:: Seared Scallops with Lemon Parsley Butter over Arugula
6 sea scallops
2 Tbsp butter
parsley, chopped
juice of half a lemon
arugula
olive oil
salt and pepperThe key to a good scallop is all in the cooking. Be sure to pat the scallops dry, if there is water on the scallop they will boil rather then sear. Season the scallops with salt and pepper.
Add a few drizzles of olive oil in a sauté pan over high heat. As soon as you see the first wisp of smoke go ahead and place the scallops in, flat side down. Do not overcrowd the pan. After a few minutes take a peek under and if the scallop is a golden brown go ahead a flip the scallop. Sear on the second side then remove from the pan and set aside.
(my pan was heating a bit uneven, hence the not so perfectly browned couple scallops on the first side)
Remove the pan from the heat and add in the butter, parsley and lemon juice. You're looking for the butter just to melt and a little bit of browning is ok but be sure not to burn the butter.
On small plates place a handful of arugula. Place three scallops on each plate and pour the melted butter overtop.
~~~

Main course:: File Mignon with Garlic Butter, Twice Baked Potatoes and Sautéed Asparagus

two 8 oz pieces of filet mignon
a small bunch asparagus
2 russet potatoes
3 Tbsp butter, divided
2 handfuls shredded mozzarella
2 Tbsp garlic and herb seasoning, divided
1/2 cup light cream
olive oil
salt and pepper
Twice Baked Potatoes
A little prep tip… the potatoes can be prepped ahead then popped in the oven. Yes they are called twice baked but I cheat and cook them in the microwave first. Once they are cool enough to handle cut each in half lengthwise.
I only used one of the potatoes for the "vessels" so basically you end up with a full potato worth of filling in a single half of skin. Using a spoon, gently remove most of pulp from the potatoes being sure to leave enough to keep its structure, place in a bowl.
To the bowl add the milk, 1 Tbsp of butter, shredded cheese, 1 Tbsp garlic and herb seasoning and the light cream. Mash until relatively smooth. Add the filling back into two of the skins. Bake at 375 degrees for about 10 minutes, until golden (you can see in the pic above).
Sautéed Asparagus
I keep it super simple here, so simple that I forgot to take a picture! Cut the asparagus spears in half on a diagonal. Add a few drizzles of olive oil in a pan, over medium high heat and toss in the asparagus. Season with salt and pepper and cook for about 6-8 minutes, until just tender (the cooking time will vary depending on the thickness of the spear, don't be afraid to give a piece a taste to check for doneness).
Filet Mignon with Garlic Butter
Oh yes, there is a lot of buttery goodness in this meal but hey you have to indulge once in a while! Let the steaks sit at room temp for 10-15 minutes prior to cooking. Pat dry and season each side with salt and pepper.
In a pan, over medium high heat, add a few drizzles of olive oil. Cook the steaks for approx 5 minutes per side depending on the thickness. Again, you are looking for a beautiful browning on each side. If you aren't able to tell doneness by touch then be sure to use a meat thermometer. 145 degrees gets a medium cooked steak, keep in mind the temp will go up a few degrees even after you've removed it from the pan.
Once the meat is cooked remove it from the pan and allow to rest for 5 minutes. You can make the garlic butter now. Super simple, mix together 1 Tbsp garlic and herb seasoning and 2 Tbsp room temp butter.
To plate up… place a potato on each plate, then the asparagus. Place the steak on top of the asparagus and top each steak with a spoonful of that incredibly simple and delicious garlic butter. You can also brush a bit of the garlic butter over top the potatoes too (yum!)… let me tell yea, the garlic butter makes steak even more wonderful!!
~~~

Dessert:: Pound Cake with Chocolate Whipped Cream and Chocolate Dipped Strawberries

I cheat a bit here, and you know what, after the impressive dinner you just put together and little help on dessert is perfectly acceptable. I use store bought pound cake here and its delicious so why not!
strawberries
semi sweet chocolate chips
1 cup whipping cream
2 Tbsp sugar
2 Tbsp cocoa powder
The strawberries you'll want to do ahead. Set up a double boiler (a small pot with a little bit of water, a glass bowl on top, over low flame) and place a handful or two of the chocolate chips (depends on how many strawberries you want to dip). Be sure to stir frequently, as soon as the chocolate is melted remove it from the pot. Dip the strawberries in and set on a baking sheet or dish. Pop them into the fridge until you're ready to eat them.
I made the whipped cream earlier in the day with the help of my 3 year old. You can make it ahead, it will lose a little bit of its "whip" as it sits but either way its yummy.
In a large bowl add the whipping cream, sugar and cocoa powder. Using a hand mix be at until well combined and thick enough to form a soft peak when you lift the beater up from the whipped cream. If you go too far with it you will make chocolate butter.
To plate, place a slice of pound cake on a small plate, add a good dollop of chocolate whipped cream and top with a couple delicious chocolate covered strawberries.
***Wishing you all a very Happy Valentines Day! Please leave a comment if you make this for your special someone and share your story of how it all went.***