Ah! I know its been a while since doing an official Meatless Monday, life has been crazy, but I have posted some meatless options along the way I've mentioned my new venture in losing a bit of weight before my brothers wedding, and well the hubby is in a weight lose challenge at work… so the healthier meals continue! Part of this healthier thing is making sure we are getting tons of veggies and fruits in and this one delivers just that and it comes together quickly! The way I figure, if you've got a rainbow of colors in veggies then its a good thing!
I promise I will not make anything that lacks in flavor! These
Veggie Pizza Melts
came out so good and were a big hit with the hubs, brother and future sis in law! And I have to say I absolutely
love
these
Arnolds Multi Grain Sandwich Thins
 that I used here as the base!! They are only 100 calories and have a very slight sweetness to them that is so yummy! If you aren't a huge fan of certain veggies that I use here, go ahead and switch out for what you love!
serves 5
(2 veggie melts per person)
5 multi grain sandwich thins
6 cloves garlic, sliced
2 small red onions, small dice
1 bunch spinach, chopped
1 zucchini, small dice
1 yellow squash, small dice
2 red bell pepper
3/4 lb fresh mozzarella, sliced thin
olive oil
salt & pepper
Oven at 375 degrees.
In a large saute pan, over medium heat, add in a few drizzles of olive oil. Toss in the garlic, onion, zucchini, squash, and red peppers. Season with salt and pepper. Cook until softened.
Stir in the spinach and cook just until wilted, a couple of minutes.
Open up each sandwich thin and place onto a baking sheet. Pile the veggies over the 10 halves as equally as possible.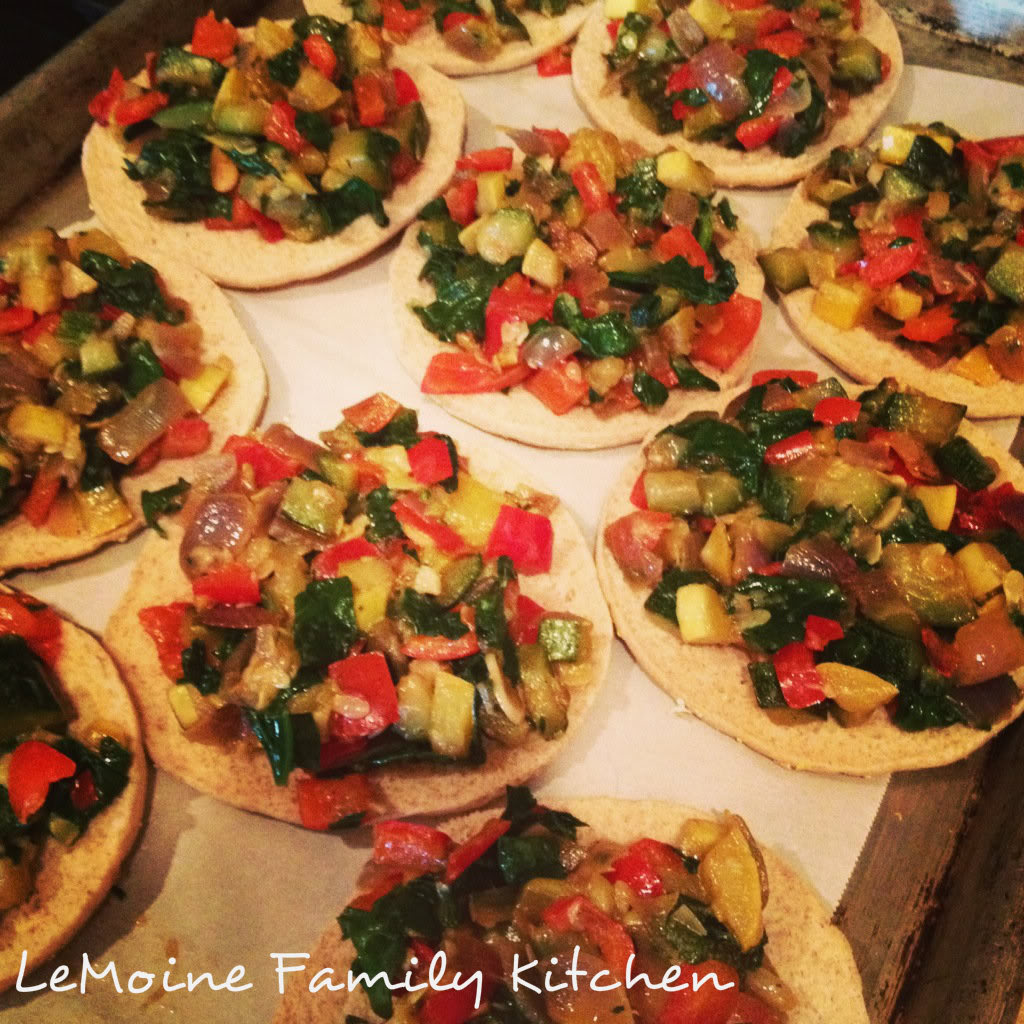 Place a slice of mozzarella over each round. Drizzle lightly with olive oil. Bake for approx 15 minutes until the sandwich thins are lightly crisp and the cheese is melted. I served mine with a simple tomato and cucumber salad.