Thankfully I've got several recipes ready to share from last week though! This one was a huge hit with both my hubby and my brother, Mike, winner of our first "Chopped"
Challenge
. Its packed with good for you Kale, sweet Italian sausage, cannellini beans and delicious tortellini! The broth is wonderful and  warms you up on the inside! This is a must try and really easy too!
Oh, and how could I forget, I served them with really easy and yummy Garlic, Cheese
 Breadsticks (recipe below)!
Tortellini with Kale, Cannellini Beans and Sausage in Broth
1 bunch kale, stems removed and discarded
1 lb sweet Italian sausage, removed from casing, broken into chunks
20 oz fresh tortellini
1 can cannellini beans, rinsed and drained
5 cups vegetable broth
5 cloves garlic, sliced
olive oil
salt and pepper
Take that beautiful bunch of kale and remove the thick stems from the leaves. Discard the stems and give the leaves a rough chop. ((this is picture is crazy blurry, don't know how I didn't realize that when I took it)).  Cook the kale in boiling water until tender, about 15 minutes. Drain well, keeping kale in same pan.
Back over medium heat, add a few good drizzles of olive oil and the sliced garlic to the kale. Once the garlic is fragrant move the kale to the sides of the pan. Add the chunks of sausage to the center and brown on each side.
Once the sausage is browned, add in the cannellini beans and toss.  Add in all the broth and allow to simmer for about 10-15 minutes, this will give the broth its wonderful flavor.
Cook the tortellini in boiling water for just half the time specified on the packaging. Finish cooking the pasta in the broth. Season with salt and pepper and sprinkle with cheese if you'd like.
Garlic & Cheese Breadsticks
1 tube Pillsbury pizza dough
garlic and herb seasoning (yes, I used Tastefully Simples Garlic, Garlic)
grated pecorino cheese
olive oil
Oven at 375 degrees.
Roll out the pizza dough and slice into the size of your liking. Arrange the dough on a parchment lined baking sheet. Drizzle olive oil on each one. Sprinkle with garlic and herb seasoning and cheese.
Bake for approx 10 minutes, or until golden brown.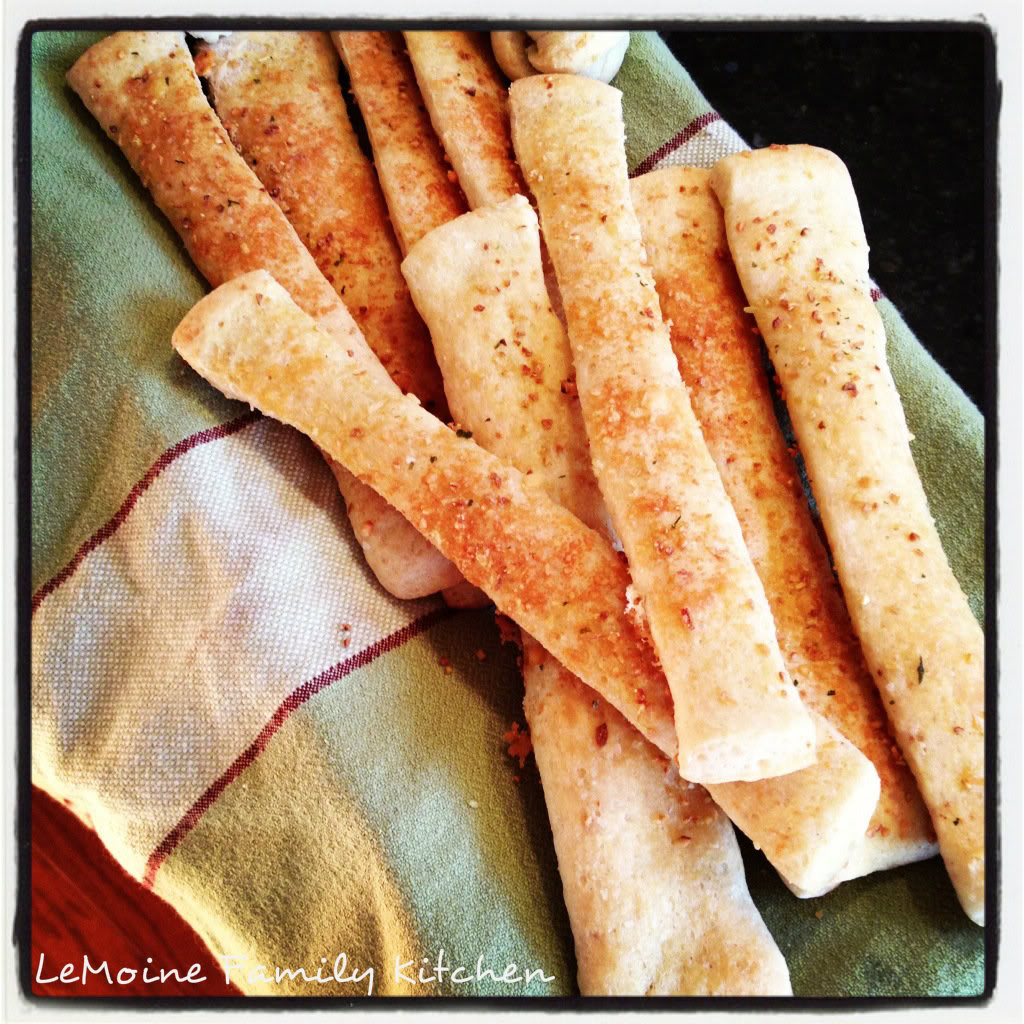 Happy Eats!!!
*these are my original recipes*