I am a sucker for a really good bolognese, my favorite by far is from Sirenas Ristorante in Long Branch! Oh my, it is incredible!!! I've also had some bad meat sauce too and no one wants that! Bolognese should be flavorful beyond a basic tomato sauce and the meat tender. I had some ground turkey and thought i'd try to make a not so classic bolognese. Its filled with veggies and lean meat and oh so flavorful! Simmered for 2 hours, the meat and veggies are perfectly tender and all the flavors have melded into the sauce. The flavors reminded me of chicken cacciatore and I love that dish! This is a great twist on a classic! Make is perfect by serving over fresh pasta. I know fresh pasta is a a couple more dollars more then dry but it really is worth it!
I used my trusty Le Creuset for this one, I do for anything that has to simmer for a while. It heats wonderfully and cooks evenly…. I love my dutch oven! A little side note, this is one of those recipes that you want to have all the veggies prepped.

1 lb lean ground turkey
2 cans crushed tomatoes
1 red bell pepper, diced
1 green bell pepper, diced
1 small onion, diced
1 carrot, cut into thin rounds
2 stalks celery, sliced thin
5 cloves garlic, sliced
1 Tbsp oregano
olive oil
salt & pepper
With your pot over medium heat, add in a few Tbsp of olive oil. Toss in all the veggies, oregano, salt and pepper.
Saute until the veggies have softened a bit and started to caramelize. This will take about 8-10 mins.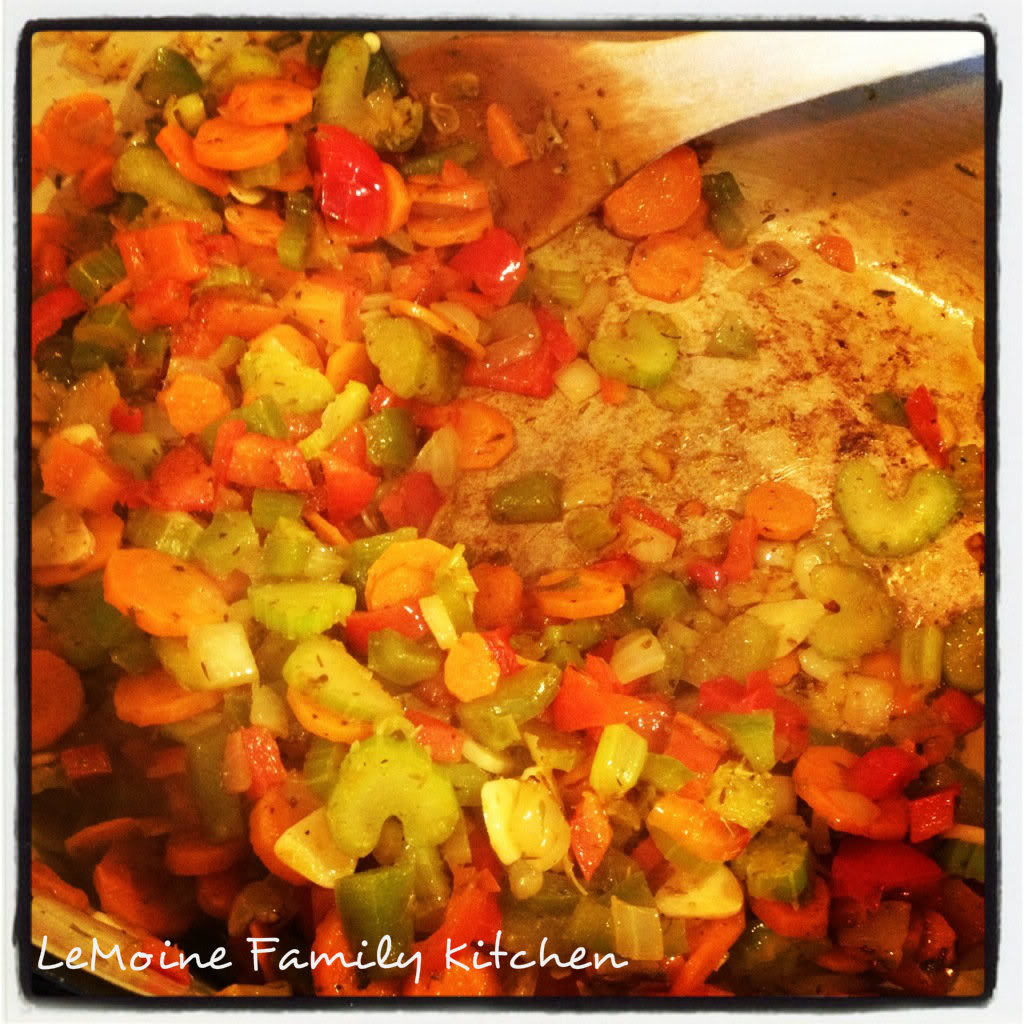 Next, using a spoon, move the veggies to the sides of the pot making a void in the center. Add in the ground turkey and break it up with the spoon being sure to scrap up all the brown bits from the veggies, its amazing flavor!
Once the meat is slightly cooked, go ahead and mix it in with the veggies. Allow it to cook another 5 minutes or so.
Add in the cans of tomatoes. Again season with salt and pepper. Allow to simmer for 2 hours, stirring occasionally. I served this delicious pasta with a hunk of cheesy garlic bread! YUM!
HAPPY EATS!!!

*this is my original recipe*