If you live near the Jersey Coast then you know
Surf Taco
. They serve up fresh coastal cuisine. One of my favorites is their Hawaiian Chicken; Teriyaki chicken breast served over rice with pineapple chunks. Me being me I pour their mild salsa all over top! So I figured why not do my own version! It turned out to be a perfect weekday meal!!! Quick and flavorful!  I made a big batch of the teriyaki chicken, used 1/3 and froze the rest in two separate batches… double duty baby! Suggestions for the extra…. Asian style nachos, Teriyaki  pizza or throw it over a salad!
4 1/2 lbs chicken breasts (this is why i froze a bunch!)
1 bottle teriyaki sauce (i found a tropical teriyaki so tried it out)
4-5 scallions, sliced
3 cups of cooked rice
juice from 1 lime, divided
olive oil
4 tomato, diced
3 Tbsp bell pepper, diced
# Tbsp red onion, diced
1 garlic clove, chopped
1 small can pineapple chunks
 cilantro
salt & pepper
Into a slow cooker, set on low, add the chicken breasts, scallions and teriyaki sauce. Cook for 4 hours. When done, shred the meat using two forks and toss the chicken back in the sauce to coat.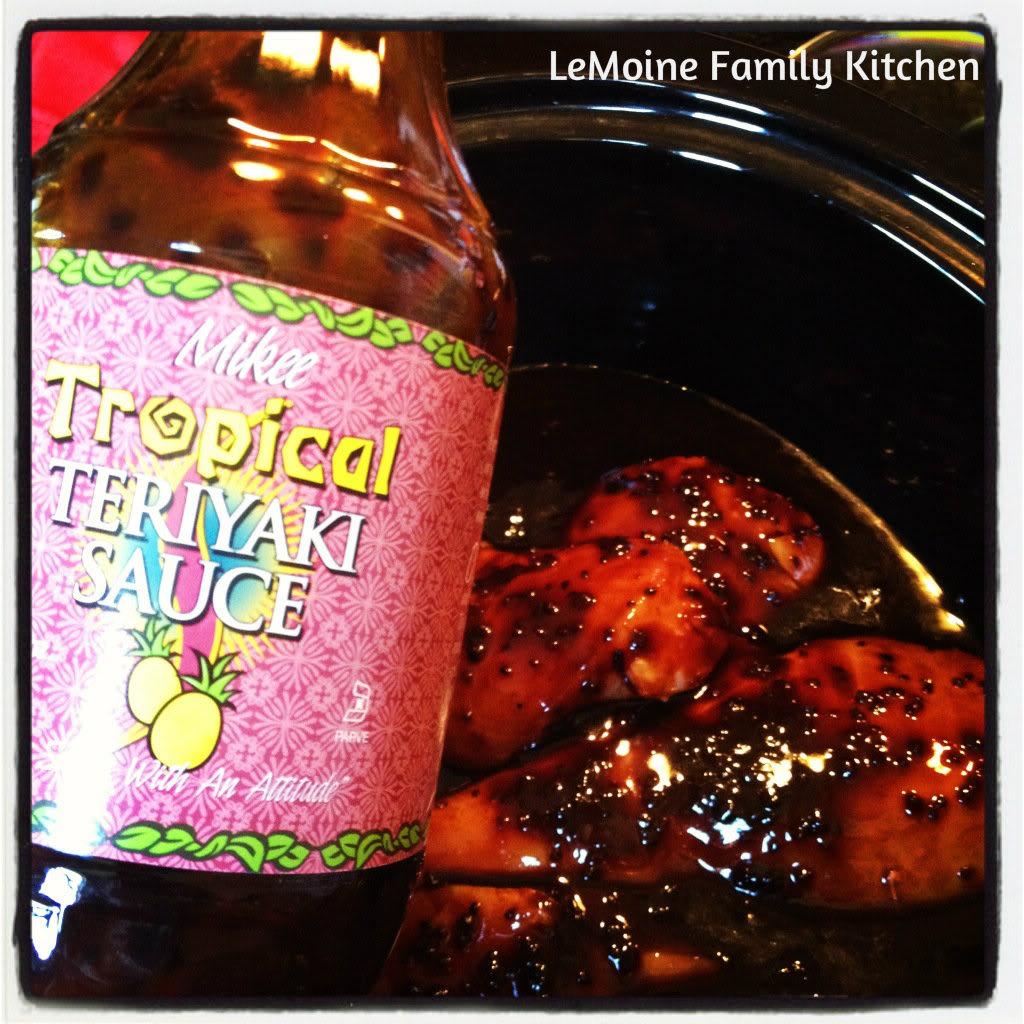 The rice is simple! Take 3 cups of cooked rice, squeeze the juice from half a lime, a drizzle of olive oil, a few handfuls of chopped cilantro. Season with salt and pepper. Toss to coat.
Now for the fabulous salsa! In a bowl, mix the tomatoes, bell pepper, onion, garlic, juice from 1/2 a lime, a couple handfuls of chopped cilantro, salt, pepper and a small drizzle of olive oil.
Layer it up… rice on the bottom, shredded chicken next and top it off with a whole lot of salsa! Finish it up with chunks of pineapple.
HAPPY EATS!!!!
*this is my original recipe*