If you read my
4th of July
entry we continue onto the the picky food I made for the celebration. Like most of you, i'm sure its all about the BBQ but I wanted to do something a little different. Heres what I decided on…  Dry Rubbed Shrimp finished with Cilantro and Lime; Wonton cups filled with BBQ Beef, Pineapple and Cheddar and lastly a Stromboli of Fresh Mozzarella, Sun Dried Tomato spread, Olive Tapenade and Basil.
If you've been reading my blog you may have noticed that I really like shrimp. They are great because they take on whatever flavor you season with and they cook in minutes! Doesn't get any better then that! Lets start there, shall we…
Dry Rubbed Shrimp finished with Cilantro and Lime
2 lbs peeled and deveined shrimp, rinsed and patted dry
1 Tbsp garlic powder
1 Tbsp paprika
1 Tbsp chili powder
1 Tbsp brown sugar
2 tsp salt
1 tsp cumin
1 tsp oregano
handful of cilantro, rough chop
juice of 1/2 a lime
In a small bowl, mix all the dry ingredients. Ta da, dry rub!
Toss 4-5 Tbsp of the dry rub over the shrimp and mix until all the shrimp are well coated. In a pan, I use cast iron, sauté the shrimp in batches in a little bit of olive oil. Cook shrimp over medium high heat for about 2 minutes per side. When all the shrimp are cooked top with the cilantro and lime juice. Serve warm or cold.
 BBQ Beef Cups with Pineapple and Cheddar
1 pkg egg roll wrappers (you will not need all of it)
1 lb ground beef
3/4 cup BBQ sauce
canned crushed pineapple
shredded cheddar
In a slow cooker add the beef and BBQ sauce and cook on low for 2-3 hours (the temperature varies with brands a bit). You want the meat cooked through. Check half way through, yes sure to break up the meat and if it looks dry add a little bit more BBQ sauce.
Oven set to 350 degrees. Take out about 8 sheets of the egg roll wrappers and cut into 4 even squares. Then gently push the squares into a mini muffin pan.
Fill the cups 3/4 of the way up with the BBQ. Top with a little bit of crushed pineapple and cheddar.
Bake the cups for about 8 minutes or until the edges are golden brown.
Stromboli of Fresh Mozzarella, Sun Dried Tomato spread, Olive Tapenade and Basil
2  pkgs of pizza dough (i used pillsbury)
1 cup mixed olives, pitted (i used kalamata and sicilian)
2 cloves garlic
handful of fresh basil leaves
pinch crushed red pepper
olive oil
7 1/2 oz jar marinated sun dried tomatoes
1 1/2 lbs fresh mozzarella, sliced thin
flour for dusting
Oven at 425 degrees. Lets start with the olive tapenade. In a food processor add the olives, garlic cloves, basil, crushed red pepper flakes and 3 T olive oil. Pulse until finely chopped. Set aside. Next, into the cleaned food processor add the jar of sun dried tomatoes including the oil and pulse until it is finely chopped.
Using a baking sheet, dust with flour and roll out the pizza dough. Spread a layer of the sun dried tomato spread and next to it a layer of olive tapenade. Next add mozzarella in two rows and a row of basil leaves. Fold in the sides just slightly. This seals in everything.
Starting from the side closest to you (bottom portion of above photo) roll the dough to the end and place the seam side down. Brush with olive oil and slice a few small slits in the dough to allow the steam to escape. Bake on the middle shelf of the oven for 8-10 minutes, until golden brown.  Now being that this is for the BBQ I can't slice it open to show you because I will warm it tomorrow… I'll post a picture of the beautiful inside of the bread soon!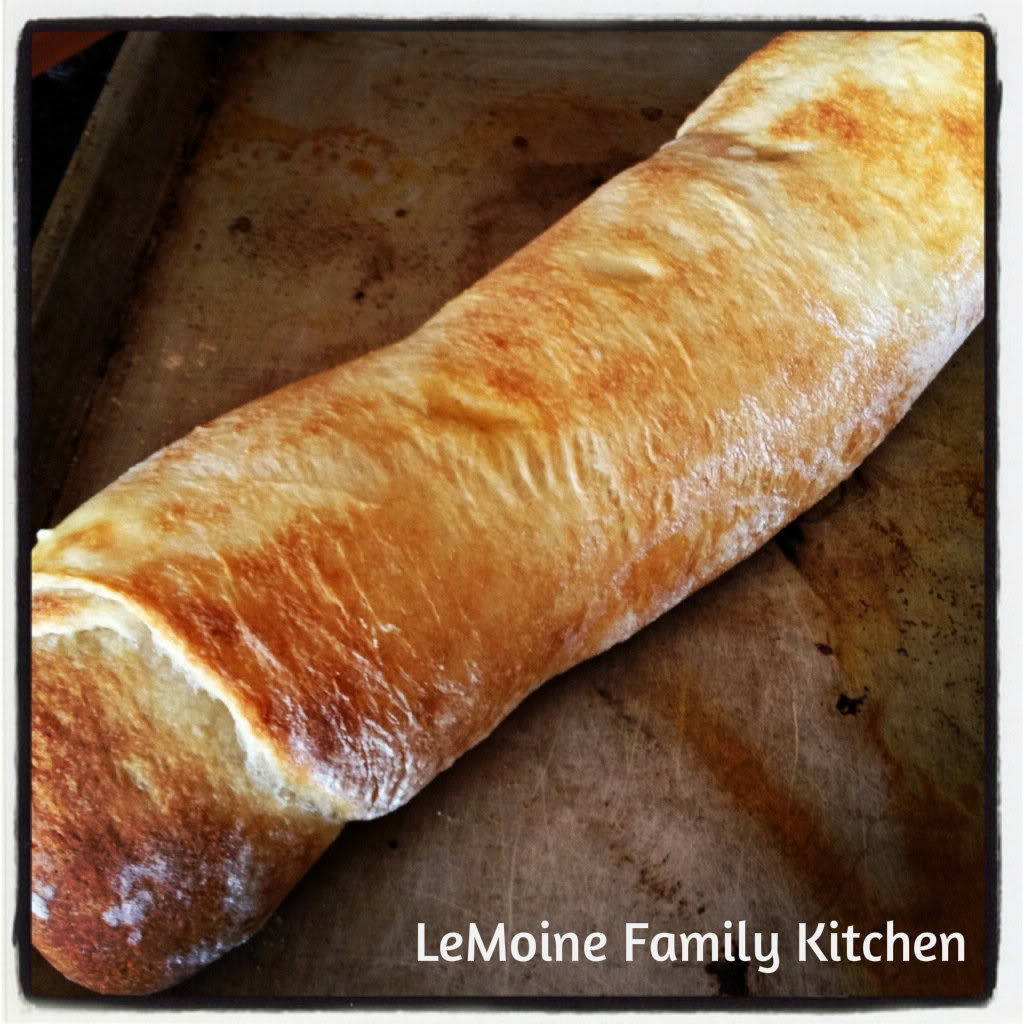 Happy Eats!!


*these are my original recipes*