Tonights dinner for the hubby and me was a NY strip with Sautéed Broccoli Rabe & Garlic Parmigiano Roasted Potatoes. The sides came out delicious and are really simple so I figured i'd share.
I think broccoli rabe is one of those vegetables that you either love or hate. I happen to love it and don't mind the slightly bitter taste these fabulously healthy greens have. I prepared it a very basic way and it is how you will generally see it prepared in a restaurant.
Broccoli Rabe
1 bunch broccoli rabe
3 cloves garlic, sliced
a pinch of crushed red pepper
olive oil
saltFirst lets prep the broccoli rabe by simply cutting off a couple inches of the thickest part of the stem. I basically cut where the bunch is tied up.
Now to get it tender and to pull out some of the bitterness. Place the trimmed bunch into a pot of salted boiling water. Allow it to cook for approximately 5-8 minutes, until the thickest part of the stems are tender. Drain as much water as possible.
In the meantime, over medium low heat add oil to your pan and sauté the sliced garlic and crushed red pepper until fragrant and the garlic is just slightly browned around the edges,  about 2-3 minutes.
Toss in the drained broccoli rabe and toss to coat with the oil. Allow it to cook for another 2 minutes. Season with salt. Enjoy!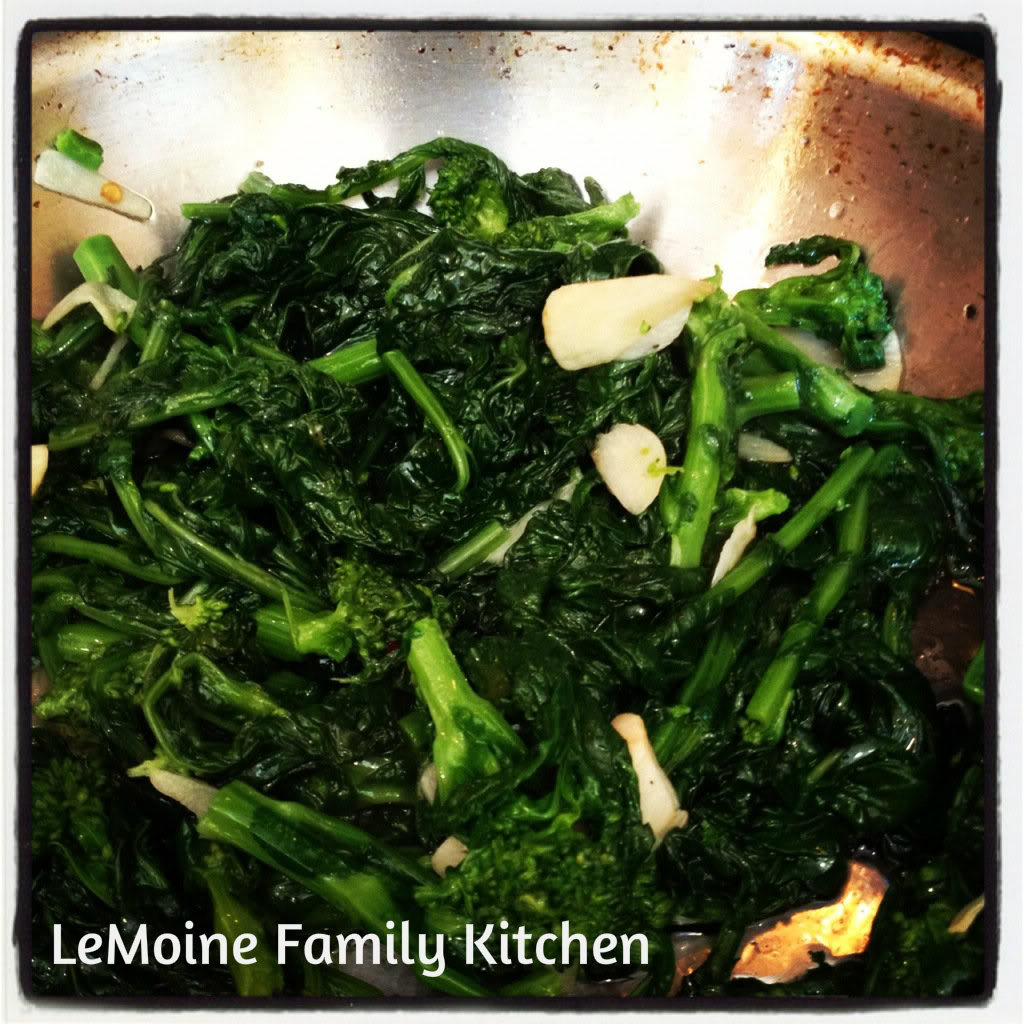 Now the potatoes! These couldn't be easier and are absolutely delicious!!
Garlic Parmigiano Roasted Potatoes
2 sweet potatoes
2 russet potatoes
2 Tbsp butter, melted
3 Tbsp olive oil
3 Tbsp garlic and herb seasoning
(I use Tastefully Simples Garlic Garlic)
3 Tbsp grated parmigiano cheese
salt & pepper
I prefer to keep the skins on so be sure to clean the potatoes well. Cut each potato longways into thirds. Take each of those pieces and slice into wedges then cut them in half horizontally. You want to keep the size of the pieces as consistent as possible to allow for even cooking.
Oven at 350 degrees. Toss all the ingredients together on a parchment paper lined cookie sheet pan. Roast for 25-30 minutes, or until golden brown. They are so incredibly flavorful and if I have to be honest I think the sweet potatoes stand out as extra yummy!
*these are my original recipes*